No matter the circumstances, if you've found yourself with damaged or missing teeth, you've come to the right place.
Restorative dental treatments are procedures performed to replace missing or damaged teeth.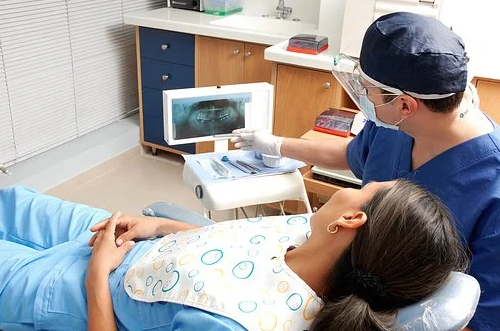 However, before getting into each of them, it's crucial to note a few reasons why they're so important:
They give patients the opportunity to fill empty spaces in their mouth, which also helps keep their teeth properly aligned.
They make it easier to maintain good oral health, including routines that help prevent or remove plaque build-up.
They can help improve self-esteem as missing/ damaged teeth have the tendency to affect one's health or confidence in appearance.
Overall, the main goal of these treatments is to prevent future issues, while also bringing back your confidence in your natural smile. There are plenty of different solutions to help you achieve this, but we've narrowed it down to 5 of the most common treatments.
Composite Fillings
Mainly used to treat small to midsize cavities, it's best to get these fillings done relatively quickly to avoid infection. Fun fact: they're also "tooth-colored," which give more of a natural appearance.
Crowns
To put it simply, a crown is a tooth-shaped cap that covers a damaged tooth and can last between 5-15 years. Their overall purpose is to strengthen and protect your tooth structure, and there are a few scenarios where a crown may be the best route for you. These include, but are not limited to: if a cavity is a bit too large for a filling or if your tooth is worn down, cracked or weakened.
Bridges
A dental bridge is used as a way to "bridge" the gap between missing teeth. It includes a crown on each end that acts as an anchor, and an artificial tooth (or teeth) that fills the empty space. One of the main benefits is that it can also keep your other teeth from moving out of place, and acts like your regular teeth once it is placed.
Implants
Dental implant surgery consists of replacing both the missing teeth, as well as the root in your jaw. The procedure consists of a metal anchor that is inserted into the jawbone and a fake tooth (similar to a crown) put on top of it.
Veneers
Veneers consist of a thin material bonded to the front of the tooth with dental cement. They are used to correct a myriad of dental issues, such as permanent staining or chipped teeth. One caveat- they are permanent, so make sure to do your research before making your decision! Luckily enough, we've got you covered when it comes to learning about their benefits.
While these treatments will help your overall oral health, it's important to still take precautions and take care of them as you would your regular teeth.
Make sure to remember these tips after your procedure:
Brush twice a day
Think about making the switch to an electric toothbrush- they can help remove plaque from both your teeth and areas of restorative work
Floss daily, especially around the areas that were treated
Avoid hard/ sticky foods – they have the tendency to damage implants, bridges, or crowns
Try out antibacterial mouthwash, which helps fight plaque bacteria around these sensitive areas
Whether you need assistance with cosmetic dentistry, implant dentistry or other preventative or restorative care, Smiles by Stevens is the place to be! Known for a comfortable and stress-free environment, we specialize in many services, and make your care our priority!
Contact Dr. Stevens, the #1 Cosmetic Dentist in Lancaster, PA by calling 717.581.0123 or emailing [email protected] today!