If one of the things you'd like to accomplish this year is to have a more confident, beautiful smile – we are here for you with smile makeover dental solutions you will love!
After all, it's a New Year, and you deserve a New You, with a unique smile that fits you!
What can a smile makeover do for you?
Performed for many cosmetic and esthetic reasons and tailored according to your unique features and specifics, a smile makeover is an aspect of dental care that can drastically improve the appearance of your smile.
It is achieved through one or more cosmetic dentistry procedures, such as dental veneers, composite bonding, tooth implants and teeth whitening.
No two smiles are the same, and at Smiles By Stevens, our goal is to create the kindest, widest, and most fitting smile for you! The very first step to developing your ideal smile is a comprehensive smile evaluation.
We take into consideration the shape of your face, your skin tone, jaw line, lips, gum tissue, bite dynamics, and color, width, length, shape and display of your teeth. Modern dentistry offers several ways to create smile makeovers, such as with cosmetic bonding, porcelain veneers, porcelain crowns, and cosmetic dental implant reconstruction.
We take your cosmetic dentistry very seriously, and are passionate about helping create or restore a healthy and confident smile for you!
Take a look at these "before" and "after" photos, showing just two of many examples of our successful porcelain veneers and other quality dental implant treatments and services.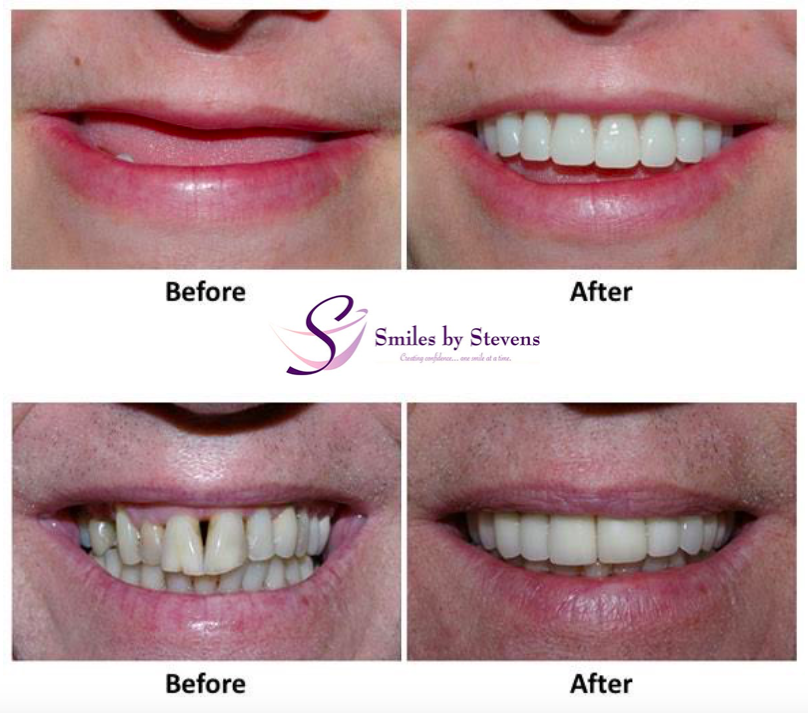 At Smiles By Stevens, we perform the surgical placement of dental implants and we also restore them. Rest assured your smile can be enhanced, as implant dentistry today has a success rate of over 95%. Dr. Shea F. Stevens specializes in general, cosmetic, and implant dentistry and was recently named one of PA's top 20 dentists. He is trained in both the placement and the restoration of dental implants, making him a leader in the implant dentistry field.
Your Lancaster PA dentist will work closely with you to develop a customized plan designed to get the results you want from your smile makeover. This treatment plan may include one or more cosmetic and functionally restorative procedures, such as composite bonding, veneers, dental crowns, orthodontics (braces), oral surgery, gummy smile reduction, and teeth whitening.
We've had the honor and pleasure to transform many clients' lives with their various dental needs over the years. Are you ready to have the smile and teeth you've been dreaming of?
Call us today to set up an appointment and see what types of results Dr. Stevens can help you achieve: 717.581.0123.
Learn more about Lancaster, PA first-class dental care, oral surgery, and smile makeovers at Smiles By Stevens – one of Pennsylvania's top 20 dentists and one of the most recognized and trusted dental offices in the area.