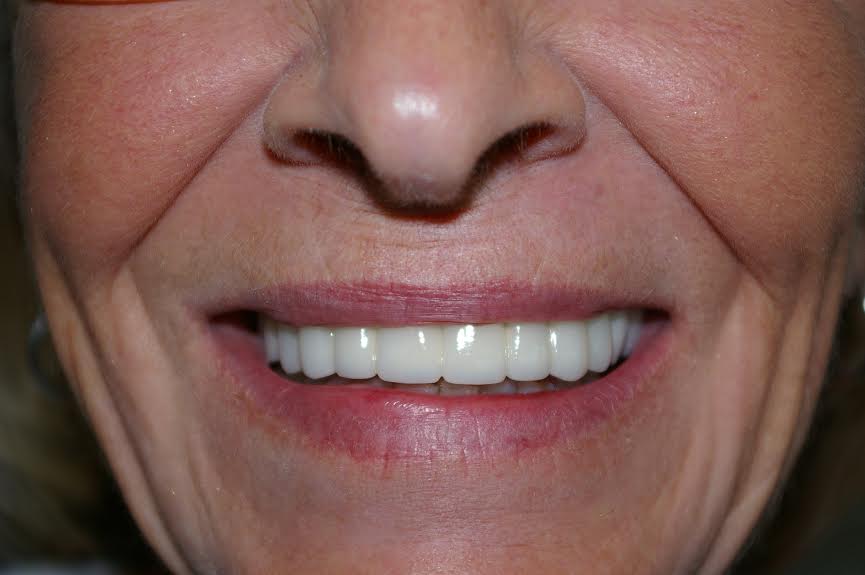 Periodontal disease, also known as gum disease or periodontitis, is caused by pathogenic bacteria thriving in the mouth. Toxins in plaque, produced by the bacteria, and the body's enzymes can cause the bone and connective tissue that hold teeth in place to break down. This leads to gum recession, tooth loss, tooth sensitivity and bad breath.
A patient of ours had advanced periodontal disease, which destroyed her upper teeth and the bone surrounding the roots.
As a result, all of the upper teeth had to be removed. Once the teeth were removed, bone and tissue grafting were placed to regenerate healthy bone and gum tissue lost to periodontitis.
In bone grafting, natural or synthetic bone is placed in the area of bone loss, to help prevent tooth loss by securing a tooth in place and to provide a platform for the regrowth of natural bone. Guided tissue regeneration is a technique where a small piece of mesh-like material is inserted between the bone and gum tissue, which keeps the gum tissue from growing into the area where the bone should be, allowing the bone and connective tissue to regrow.
After a healing period of 3 months, 6 dental implants were placed and a porcelain bridge was attached to these implants.
Dental implants keep adjacent teeth healthy and maintain the structure of your jawbone, and, with proper dental hygiene and regularly scheduled dental visits, can often last a lifetime. Implants feel and function like natural teeth because they are integrated with the bone and do not require adhesives, they are never removed and do not rely on other teeth for support.
Our patient now has a full set of upper teeth that function just like natural teeth, only stronger. There is no need to remove the teeth. Thanks to her dentist she can eat and smile with confidence.
Dental implants are modern dentistry's best solution for replacing missing teeth, as they provide an extremely successful, long lasting, and natural-looking substitute.
At Smiles By Stevens, we are committed to providing superior service in our cutting edge dental office, where you will receive the highest quality of dental care.
Dr. Shea F. Stevens specializes in general, cosmetic, and implant dentistry, and is trained in both the placement and the restoration of dental implants – making him a leader in the implant dentistry field. Dr. Stevens was recently named one of PA's top 20 dentists.
At Smiles by Stevens we encourage you to take proper and regular care of your teeth and gums – because prevention is the best route we can take for our health!
Whether you need the best maintenance for your teeth or a more advanced dental treatment – trust our highly qualified and experienced staff to provide you with a solution.
Learn more about cosmetic dentistry in Lancaster PA, and why we continue to be one of the most trusted and renowned dental offices in the area:
https://smilesbystevensdmd.com/